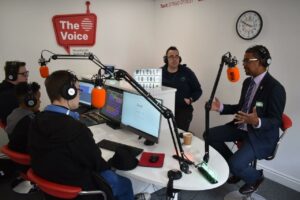 Vaughan Gething, AM for Cardiff South and Penarth has visited Action for Children's Headlands School in Penarth.
Mr Gething took questions in an interview on the school's new radio station, The Voice and watched a special performance from the dance and drama department.
Vaughan Gething said: 'It was a pleasure to visit Headlands School in my constituency. I had the opportunity to hear directly about how the school had improved confidence and prospects in education for pupils and had prepared them for the wider world. I was very impressed with the level of activity and opportunities available to learners and I look forward to hearing more of the work of the Headlands school community.'
Headlands School is an independent special school that offers day and residential placements for boys and girls aged 7 to 19 who have difficulty learning as a result of early trauma, complex emotional and social issues, Autism Spectrum Conditions (ASC) and Asperger's Syndrome.
School Principal, Matt Burns said: 'I'm delighted Vaughan Gething took time out of his busy schedule to come and visit our school.  He engaged well with our young people and took a great interest in our approach to teaching children with special educational needs.  It was important to showcase how we empower young people to fulfil their potential and express themselves despite significant challenges.
'The radio station is just one of a series of innovative developments the school is embracing as we celebrate our 100th birthday.  We never stand still and are always driven to hold high expectations of ourselves and our students and what we can achieve together.'
'To listen to the interview, please follow the link below'
https://soundcloud.com/headlandsvoiceradio/interview-with-vaughan-gething-jayden-will-and-kenley-3rd-may-2019